Young Carers Service
'Did you know… on average, there are 3 young carers in every classroom'
YMCA Swansea provides tailored support to Young Carers aged 8-18 who may provide care for a family member with a long-term illness, disability, mental health condition and/or dependency on substance use.
YMCA Swansea aims to identify and provide appropriate support to all Young Carers.
Young Carers Club
YMCA Swansea Young Carers Service runs a weekly Young Carers Club every Wednesday between 18:00 – 20:00 during school terms.
This is an opportunity for Young Carers to have a break from their caring role, meet other Young Carers and participate in different activities to support their physical, social, and emotional wellbeing in a safe and friendly environment.
We provide transport to and from the sessions for Young Carers who may not be able to access the sessions due to transport being a barrier.
Trips and Activities
YMCA Swansea Young Carers Service provides trips and activities to Young Carers during school holidays. This is an opportunity for Young Carers to participate in day trips with the service, try new experiences and visit new places.
Family Support
YMCA Swansea Family Project celebrates and supports families across Swansea. The Young Carers family project provides a space for Young Carers and their families to participate in different activities together (either online or face to face) trips, and workshops.
Young Carers Forum
An elected group of Young Carers who represent the views of YMCA Swansea Young Carers Service and work collaboratively with other organisations, on local and national level, to raise awareness on challenges faced by Young Carers. The group meets once a month and works on tasks to ensure Young Carers are recognised, supported and that YMCA Swansea is delivering a service for Young Carers that is shaped according to their needs.
Everyday Young Carers Project
'Everyday Young Carers' is a Youth Led digital project developing content for YouTube, Podcasts and Instagram channels, highlighting the everyday life of a young carer.
The aim of the project is to give Young Carers a voice to influence and improve services for them. With the channels being led and developed by young people, it gives them experience and training in digital pathways.
Raising Awareness
YMCA Swansea raises awareness of young carers on a local, national and global level. We are passionate about advocating on behalf of young carers with the aim that 'hidden' young carers are identified and supported. We do this through the following activities: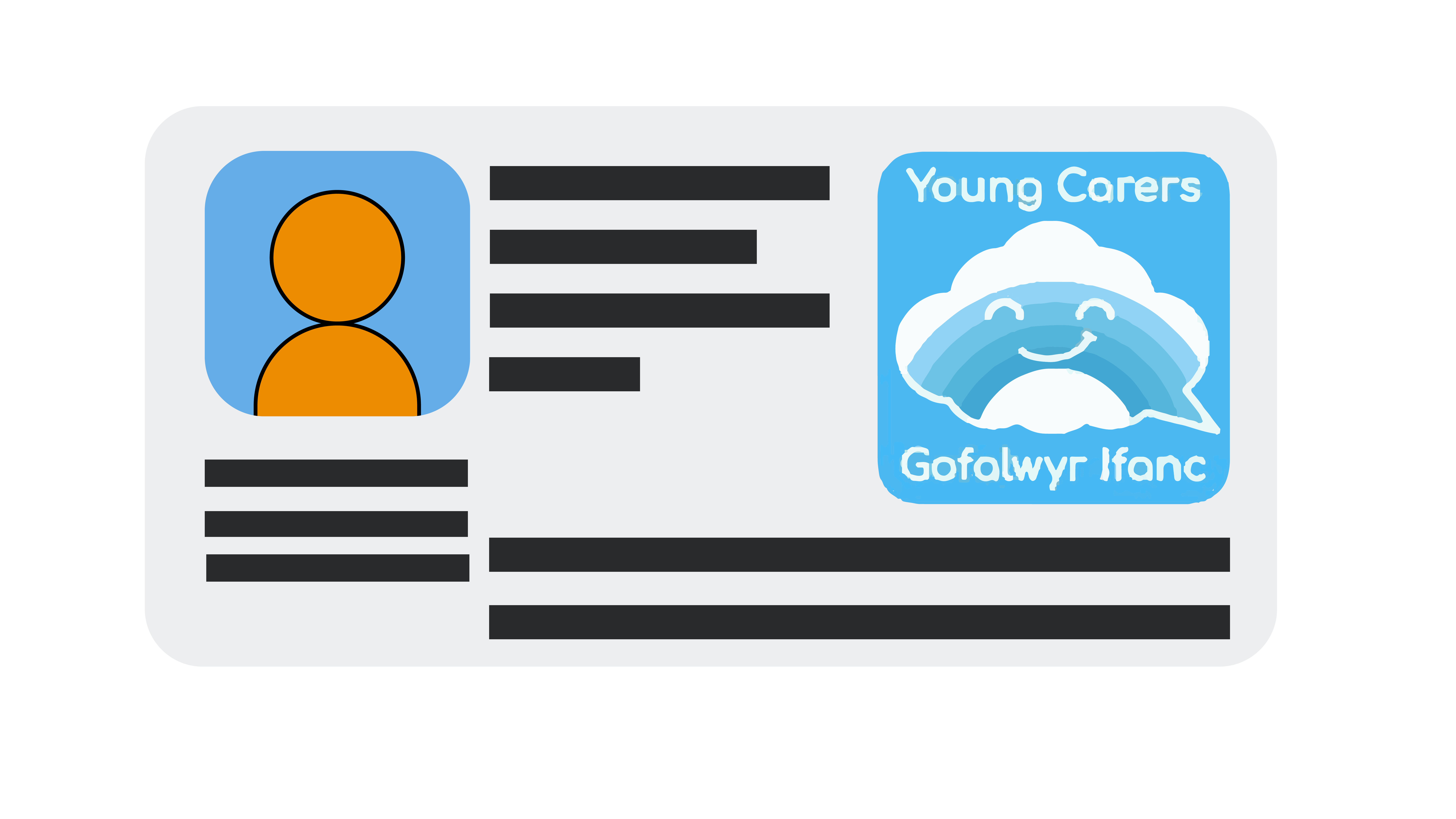 ID Card
YMCA Swansea are early adopters of the National Young Carers ID Card.
The card was designed by young carers themselves to help professionals including doctors, teachers and pharmacists to recognise and support them appropriately.
Young Carers are able to present their ID card in schools:
If they are late to school
If they are behind on school work
If their homework is late
If they need to take time out from class
If they find it difficult to concentrate in class due to their demanding care role
To reschedule after school detention
To check their phone to make sure the person they care for is ok
Young Carers can present their ID card in the GP Practice:
To accompany the person they care for in an appointment
To ask any questions they may have about the person they care for
Young Carers can present their ID card in the Pharmacy:
To collect medication
For further information on the medication schedule for the person they care for.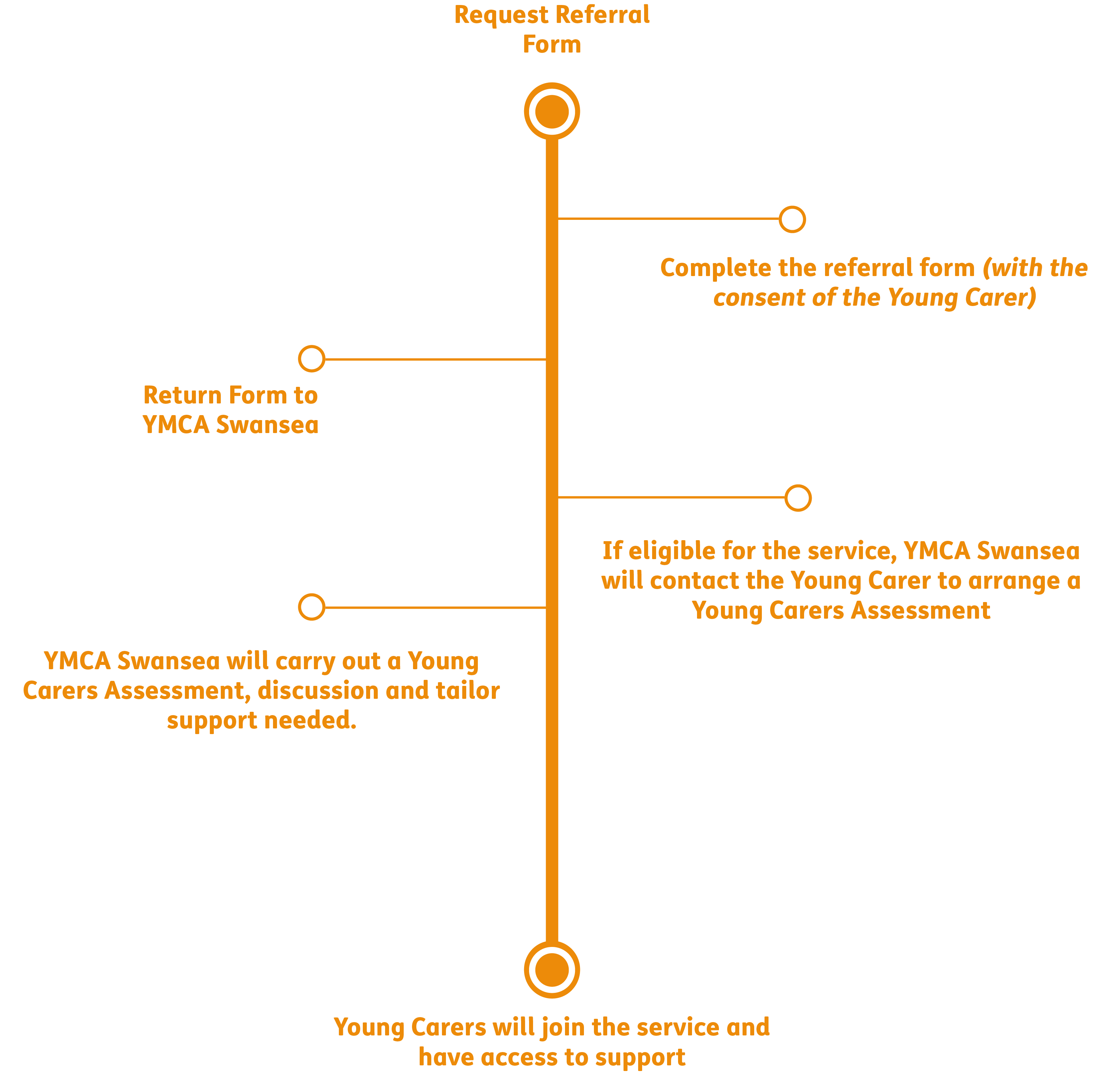 How to access support
If you would like to refer a Young Carer into YMCA Swansea Young Carers Service, please request a referral form.
Young Carers can be referred into the service by schools, GPs and any other professionals, their parents/ guardians or self-refer
What does this service mean to you?
'The YMCA is amazing because it has such a warm and welcoming atmosphere. It has enabled me to become more confident and grow mentally as well as physically because of the support it provides'
'Being with YMCA Swansea Young Carers Service opened a whole world full of opportunities and made me realise that I am never alone and I will always be supported'
'The Young Carers club is an amazing place for other Young Carers to meet and learn about each other's story's, this gives us a chance to make new friends who understand what it is like when things get tough. I come to club to spend time away from my caring role and to have some time to focus on myself'
'It has helped me in many ways in talking to people when something is wrong'
For more information, please contact:
Egija: egija@ymcaswansea.org.uk
Amy-Beth: abmccarthy@ymcaswansea.org.uk